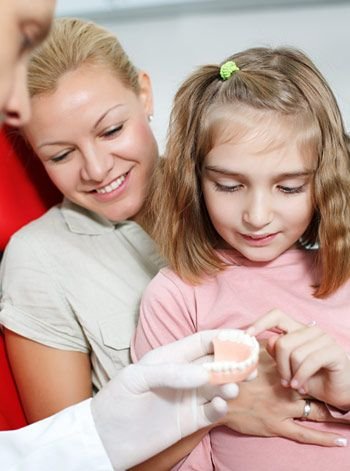 FIRST VISIT-INITIAL EXAM
Your first appointment is an exciting time! It's a chance for you to learn about the treatments and services that can help give you the best smile possible. It all starts with the initial exam. A big part of the first visit is to determine what treatment is necessary to correct any problems found, and whether treatment should begin now or wait until a later time. Dr. Schafer will also decide if any diagnostic records need to be taken during this visit.
Following the exam, you may be told that things are just fine, or treatment may be recommended. It might begin right away or at a later time, depending on the developmental stage of the teeth and jaws. Many times, you'll be advised to return for periodic checkups until it's time to start.


Whether you're starting now or later, the first visit is the best time to ask questions about the process. Topics to discuss include treatment choices, what to expect at the different stages of the process, and any of the following:
Can orthodontic treatment benefit me (or my child)?
What general procedures will be used to correct the problem?
Are any options available (or recommended) for my treatment?
Should I get treatment now, or is it better to wait?
Will tooth extraction be necessary?
How much does treatment cost? Are payment plans available?
How long do you expect treatment should take?
When you leave the office, you should have a better understanding of how you can get the best possible smile. Allow at least 30 minutes for the initial exam appointment.
RECORDS APPOINTMENTS
In order for Dr. Schafer to determine the correct course of treatment, complete diagnostic records will need to be taken. The records consist of a series of x-ray images, study models, facial photographs, and dental photographs. This appointment will take approximately 45 minutes.


CONSULTATION - DISCUSSING YOUR TREATMENT OPTIONS
After gathering the diagnostic records, Dr. Schafer will formulate a comprehensive treatment plan that will address the patient's existing orthodontic problems. All the treatment options will be presented and explained to the patient and family. After this appointment, orthodontic treatment can begin.